I'm not a big fan of MLM (Multi Level Marketing) programmes. They are fundamentally
flawed, because, the basic premise is that your success is based on your recruitment
efforts.Essentially, the affiliates under you need to be active and motivated,
if there not making any commissions,
the chances of them staying active are very slim.
You could end up paying out a lot of money on Solo Adverts, just to get a few affiliates, and not everyone who joins straight away become active. Some people who join are "tyre Kickers" and frankly, are a waste of time. Some people who join want to make money straight away, they will quit, soon because it takes time and effort to get anywhere with any MLM.
In fact, the only way any MLM works is if you physically knew ten people to join under you and you can interact with them on a daily basis, to keep them motivated and enthusiastic.
The reason why so many people join MLM and quit soon after. It is really
down to mindset, and attitude. If  only people had the correct attitude and mindset it would make MLM easier, sadly, most people are looking for a quick fix. Hence the expression
"Get rich quick" Scheme.
However,
There is a programme called Six Figure Income, it t has a MLM level to it.
but has many more layers to it and is constantly developing and investing, and this makes a big difference, people are more likely to be active if the company, has been around for a number of years and the company are making the effort to develop the programme for the good of everyone.

SFI (Six Figure Income)  was founded by CEO Gerry Carson. SFI was started in 1998, with only one product servicing the United States. Over 10 years later, SFI is now a completely global business opportunity providing millions of products and services to over 190 countries.
If you're looking to join a company with a proven and successful track record, there's none like SFI. Both and men and women all around the world are building profitable internet businesses thanks to SFI's unique and lucrative business model. SFI's biggest strength is that they're constantly evolving and growing to meet the needs of affiliates. This shows they care about their affiliates and who they represent.
SFI works on a VersaPoints system, affiliates can join for free and earn a substantial income without investing any of their own money. This is one of the biggest differences that set SFI apart from other business opportunities. Because of this, SFI is the fastest growing company of its kind.
Here are some ways you earn money with SFI

!)  Commissions  generated through, direct sales generated TripleClicks.com
2)   Executive Pool-
SFI's TripleClicks Executive Pool provides a simple, easy, and lucrative income stream that all SFI affiliates can tap into every month. SFI-powered TripleClicks.com is one of the fastest-growing e-commerce Website in the world, and we now put 40% of the CV of EVERY purchase–company wide–into the TripleClicks Executive Pool for our affiliates to share in!
How to share in the pool:
For each VersaPoint (VP) you accumulate during the month, you will receive one share of the month's pool. The more VP you score, the more you will earn from the TripleClicks Executive Pool! It's that simple. Note that VP can be earned for doing a wide variety of actions.
 3)   Co-Sponsored Commissions –
Each time an SFI affiliate that you are the co-sponsor of places an order at TripleClicks.com, you earn 15% of the CV.
Earnings Example: An order is placed by one of your co-sponsored SFI affiliates (CSA) that has $28 CV. You earn a $4.20 Co-Sponsor Commission (15% of $28).
Note: If you're a Team Leader, you can also earn Matching VP on all your CSAs. See TripleClicks Executive Pool above for details.
 4)   T Credit Bonus
TCredits allow you to take FULL advantage of your TripleClicks membership benefits and can also be used in many ways to build your SFI business. A single TCredit sells for $1.99, but you can receive, as part of your compensation as an SFI affiliate, up to 24 TCredits FREE every month !
• Receive 10 TCredits if you're an EA
• Receive 12 TCredits if you're a Bronze Team Leader
• Receive 14 TCredits if you're a Silver Team Leader
• Receive 16 TCredits if you're a Gold Team Leader
• Receive 20 TCredits if you're a Platinum Team Leader
• Receive 24 TCredits if you're a Diamond Team Leader
5 )  ECA Referral Programme.
Make referrals to the TripleClicks E-Commerce Associate (ECA) Program and earn VersaPoints and lucrative royalties for life!
Simply refer companies that sell products to your ECA Gateway. For each that becomes an approved ECA, you'll earn 10% of the CV on all of their sales at TripleClicks.com. Plus, you'll earn an immediate 100 VP when your ECA generates their first $10 or more in sales.
The ECA referral program is very powerful because all you have to do is introduce an ECA to TripleClicks and you're all set to earn royalties for life! Every time anyone—anywhere in the world—buys something at TripleClicks from one of your referred ECAs, you earn a royalty!
Earnings Example: The total CV for all of your referred ECAs is $20,000. You earn $2000 in ECA Royalties this month (10% of $20,000).
Tip #1: Buy from your own referred ECAs and receive "rebates" on your purchases.
Tip #2: Refer customers to your ECA's "store within a store" TConnect Websites. With the combination of Direct Commissions and ECA Royalties, you can earn a handsome 55% of the CV on any sales generated!
 6)  SFI Pay-Per-Action (SFIPPA)
SFI Pay-Per-Action (SFIPPA) is an optional, supplemental income program available to all SFI affiliates that allows you to act as an advertiser for SFI and earn supplemental income by getting others to take actions such as filling out forms.
Each time you generate a qualified SFIPPA action, you earn a bounty. The amount of the bounty varies depending on the action. The SFIPPA currently available (with more in the works) is:
SFI AFFILIATE SIGN-UPS
Bounty: Up to $10 for each qualified sign-up
11 Reasons Why The SFI Comp Plan Rocks!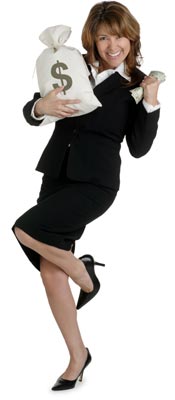 1. Clean, simple, generous, and fair!
2. No purchase requirements…ever!3. Start earning income immediately just by doing simple free actions!4. Earn up to six different ways: 
Direct Commissions
, 
TripleClicks Executive Pool
, 
Co-Sponsor Commissions
, 
TCredits Bonus
, 
ECA Royalties
, and 
SFI Pay-Per-Action
!5. Qualify for EVERY type of compensation with as little as 1500 VP a month!6. All qualifying VP can be generated with just actions, or combinations of actions and sales!7. A huge 40% of the Commission Volume (CV) on EVERY sale at 
TripleClicks.com
 goes into the TripleClicks Executive Pool. Share in this big, companywide pool with a minimum of just 1500 VP a month!8. With OVER 90000 available products from more than 130 countries, 
TripleClicks.com
 has something for everyone. This makes selling products online both fun and lucrative. And it's even easier to earn VP with Transfer Buying (buying from 
TripleClicks.com
 the products you already buy elsewhere)!9. Fast upfront compensation and great long-term residual income potential too!
10. There's no limit to how much you can earn. Go as wide as you want while also earning deep into your organization via the TripleClicks Executive Pool!
11. Get paid in your country's currency via our Payoneer™ MasterCard or via check or PayPal. See our Getting Paid FAQs for more information HERE.
AND THE DOWN SIDE 🙁
No matter what program or opportunity you look at, there's always going to be drawbacks. That's just a fact, and SFI is no different. This doesn't mean that SFI can't help you earn a part or full-time living on the internet, but there are some things you should be aware of.
Becoming an EA is much easier and quicker by earning the required amount of VersaPoints (1,500) each month via TripleClicks credits. Going this route would cost you 19.90 per month to stay an active EA. It's entirely up to you if you want to spend any money initially. You can earn these points without investing any money, so I suggest doing the necessary tasks first before spending your hard-earned money. In the future, you may want to do so as things will be slow going at first. Once you're bringing in a steady stream of affiliates and building your team, earning the necessary 1,500 VP will be much easier.
Another disadvantage is that if you do not maintain your  EA Status, you will lose
anyone on your downline !
This is actually an advantage because if your downline are full of "tyre Kickers"
You can get rid of them and start afresh. I do not recommend this option because they may become active later.
Many people are looking for get-rich-quick schemes. Since joining SFI is free, it attracts the types of people that don't want to invest any time or money and expect to make it big
over night. Don't be surprised if you get bombarded with emails from your affiliates asking you why they're not making any money. Then after explaining to them what they need to do, you'll almost never see a single one take action. This shouldn't discourage you, however. There are plenty of serious people ready to do what it takes – Focus on and help these people as much as possible.
It's a fact that every affiliate who earns a full-time income from SFI has their own website. As a beginner, this isn't necessary. But, if you're serious about making SFI a profitable internet business, you're going to want to invest in a website of your own at some point. Only you will know when the time is right, and you're under no obligation to do so to earn a substantial amount of money from SFI.
Not everyone makes money from SFI. Some don't make a single penny. SFI isn't full-proof by any means, but there's not a single business opportunity out there that is.
Is SFI A Right  Fit For You?
I will be brutally honest with you here. Because, SFI may not be for you and vice versa.
You see, SFI is designed in such a way as too weed out the slackers and freebie seekers. Rewards are given to those that take action and, you need an active sponsor,
someone you can contact if you have any questions or concerns. If you join SFI
under me then that is great, and I will help you as much as I can, but you
need to understand that it takes time and effort to get any reward.
Here are my tips for success.
1) Buy a Builder Bundle or set up Auto Delivery to get the required 1500 Versa Points,
This will maintain your EA (Executive Affiliate) status.
2)  When you join SFI you have to log in every day and do Daily Tasks to maintain, and
build your Versa Points.
Here is A Video Of me doing the daily tasks.
Initially, I would not be too concerned  about recruiting people.
In my, experience, it is more prudent to learn, the basics of SFI first.
so, that when you do get active affiliates, you are in a great position of authority, to help them.
This will give your affiliates confidence that, because you are active this will encourage them to be active.
If you're passionate about building a long-lasting internet business from home, and you're willing to put in the grunt work to see it through, and you have the correct mindset and attitude,
then SFI is looking for somebody like you. And, SFI could just be the opportunity you've been looking for as well.
However, if you're just another one of those freebie seeking, affiliate hopping, get-rich-quick, make money online wannabes, then I'm sorry to say that you're in the wrong place.
Have you made a decision?
You have two decisions to make.
1)  Dismiss the SFI opportunity and decide it's not what you're looking for.
2) Realize, the great potential  that SFI has everything, for you need to start building a profitable business on the internet.
SFI is what I devote a lot of my time in because it has proven to be reliable time and time again. That's not to say I haven't endured some hardships along the way, but patience and persistence pays off in the end.
I'm in the process of building a team of successful affiliates, and I'd love for you to join me. I offer my own personal free training in addition to SFI's comprehensive training to assist affiliates in getting a quick head-start.
Do you want to start learning how to make money on the internet? Are you willing to take consistent action toward changing your life and creating a better financial future for yourself?
If you answered yes to either of those questions, then I would highly recommend SFI.
Click Here to Visit SFI Marketing Group Official Site